Concept
In order to convey the unexpected fate of Surly's business and their desire to continually move forward, suspension will be used as the concept for the Surly Brewing Co. corporate office. Visitors will experience the feeling of anticipation, wondering what will be around each corner. Rhythmic patterns and linear elements will be used to guide users throughout the space. Unique wall accents and lighting fixtures will draw visitors' eyes upward and forward. Lighting will be strategically placed to elevate certain elements and highlight key features. To juxtapose the strong linear elements and architectural features, warm finishes will create a feeling of familiarity and comfort. Just as the next step of Surly was always in question, users of this space will question what the next feature is and be encouraged to continue on their journey throughout the space.
Visitors entering through the first level will get a glimpse into the brewing process. The tasting bar offers lounge and dining space to create a welcoming and relaxed atmosphere that reflects Surly's vision and function as a company. The use of dramatic lighting and a vibrant red accent color establish Surly's brand and evoke a lively mood throughout the space.
A custom built staircase serves as the central point of the second floor. Surrounding it there are collaborative and private offices, lounge spaces, and a cafe. The hallway leading to the cafe features seating nooks for break times or taking personal phone calls. The back wall of the cafe showcases an over-sized green wall spanning the second and third floor. Dark materials emphasize the industrial feel of the office, while curtain walls allow natural light to flow throughout the space.
A centrally located suspended staircase serves as a focal point on the second and third levels of the office. Custom seating is nestled next to the staircase to provide casual workspace and lounge seating. Pendant lights draw users to this area and define the space.
The open office layout provides flexibility for employees. Private space is used for individual work, while a nearby area encourages collaboration. Suspended ceilings define work zones and provide acoustical separation.
The third level incorporates a variety of work spaces including private offices, collaborative areas, and open offices. It boasts a large, centrally located conference room that has a perfect view of the suspended staircase.
In addition to more office space, the third level offers a lounge for collaborating with coworkers or taking a short break. The suspended staircase can be seen from just about anywhere, creating a focal point from every angle.
Results
The final design of Surly Brewing's corporate office supports their continual movement forward and encourages collaboration between employees. An overall relaxed atmosphere is created through the use of warm colors and soft materials. Open space planning allows employees to interact with one another, but still work privately when necessary. Features such as reclaimed wood, exposed brick, and coffered ceilings preserve the history of Nashville. The use of steel represents the strength of Surly as a company and reminds users of Nashville's impact as a railroad trade route. Overall, the design represents Surly's strength as a company and the need for employee collaboration in order to achieve growth and success.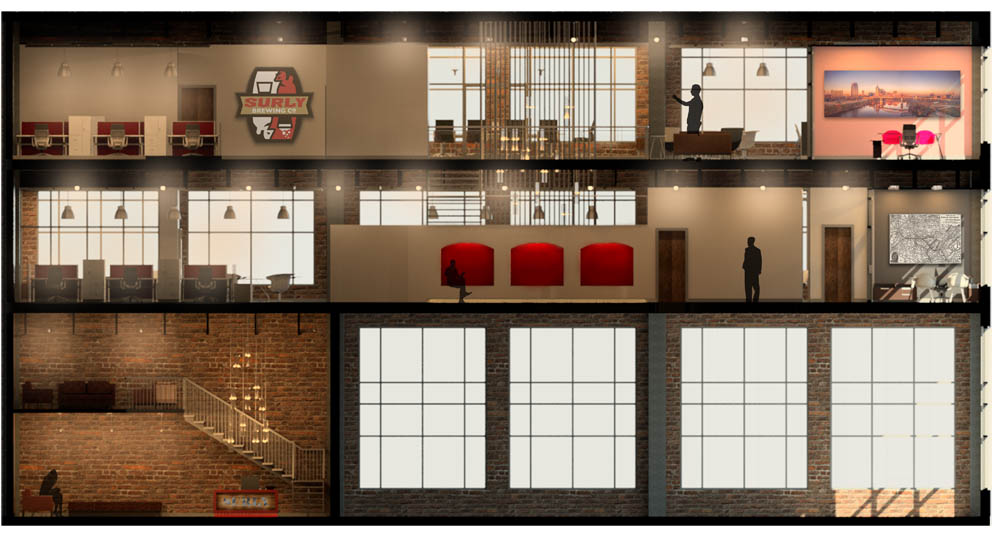 The Murdaugh Residence
wizard
2019-09-16T15:59:30-05:00
The Westgate Community
wizard
2019-09-04T10:04:27-05:00
Furniture Design
wizard
2019-08-20T15:12:30-05:00
Surly Brewing Co.
wizard
2019-09-16T15:27:09-05:00